Ubuntu and RedHat Get Enterprise Remote Desktop Control with Bomgar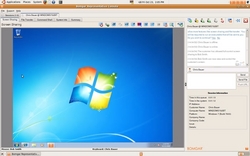 Ridgeland, Mississippi (PRWEB) November 2, 2009
Bomgar, maker of appliance-based remote support software, announced this week a significant expansion of its already-broad Linux support. Bomgar is expanding its Linux capability to better address the needs of IT systems administrators and end users during a Linux remote support session. Bomgar 10.4, generally available November 16, 2009, extends platform support to enable technicians to run Bomgar from an Ubuntu, RedHat and SUSE Linux Enterprise Desktop.
Since 2007, Bomgar has provided support technicians on Windows, Mac OS X or SUSE Linux Enterprise Desktop the ability to support remote desktops running Linux.
Now Bomgar is widening Linux compatibility on both sides of the remote support session. Bomgar 10.4, scheduled for release in November 2009, certifies Bomgar's remote support software on multiple Linux distributions. Support technicians will be able to run Bomgar on Ubuntu, RedHat and SUSE Linux Enterprise Desktop. This marks a significant expansion of Linux support on the technician side of the remote support session. Bomgar compatibility on the customer end is also expanding with the new release.
When asked if Bomgar works on more Linux distributions, Huey Ngo, EVP of Product Development & Engineering said, "Bomgar works on dozens of Linux distributions. We certify the most popular versions including Ubuntu, RedHat, SUSE, and Fedora Core."
Customers like Zappos.com, who use Linux at the service desk, find Bomgar's broad multi-platform support – especially its Linux support – a core capability vacant in other remote support solutions. "With one of the only Linux based call centers in the world, our support reps must have the ability to control a Linux machine no matter if they are working from a Windows or Mac platform," said Charles Anderson, Tech Support Supervisor for Zappos.com.
Bomgar's approach to Linux compatibility is to offer Linux reps the same functionality available to reps running Windows and Mac. "We ultimately don't want it to matter what operating system either the support rep or customer is running. The remote support solution should work the same whether a tech is controlling a BlackBerry device from a Mac or an Ubuntu server from a Windows 7 machine," said Nathan McNeill, VP of product strategy.
In addition to the expanded Linux support mentioned above, Bomgar lets support technicians run Windows 2000 – Windows 7, Windows Server 2003, or Mac OS X 10.4 – 10.6. Bomgar also supports customers' remote desktops running Windows 95 – Windows 7, Windows Server 2003 and Server 2008, and Mac OS X 10.3 – 10.6. Support representative can also support Smartphones running BlackBerry OS or Windows Mobile.
About Bomgar

Bomgar Corporation specializes in appliance-based remote support software. Bomgar allows companies to connect to remote clients and co-workers via the Internet anywhere in the world in seconds. The product allows organizations to optimize support by accessing end-user systems remotely for real-time incident resolution, eliminating the frustration of phone-only tech support. Bomgar provides enterprises with an unparalleled level of security and scalability, while enhancing IT resource management with the benefits of a virtualized help desk. Backed by venture capital, Bomgar has grown steadily since its inception in 2003 and has thousands of customers and strategic partners worldwide. Based in Ridgeland, Miss., the company is also one of the fastest-growing software companies in America ranked by the 2009 Inc. 500.
Contacts: